Murray McLellan is our lead church planter and Bible teacher.
"My main goal is to advance the faith and joy of others in the Lord Jesus Christ, through the teaching of the Word of God."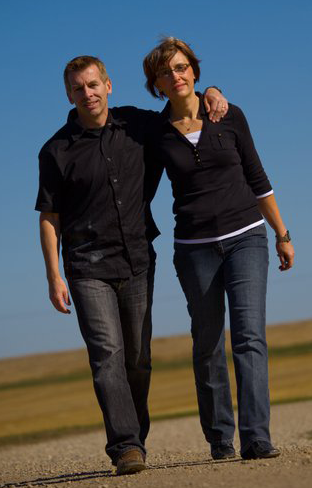 Murray and his wife, Cheryl
Clay Bitner is our co-pastor and creative director. He oversees several ministry areas of our church.
Clay and his wife, Kim, and their 4 children
Endorsements for Grace Fellowship and our servant leaders:
God has graciously provided me with good friends in the gospel over the years. Several in kindness have written endorsements for me  regarding our church-planting endeavors. Here are a few:
"One of the 'high lights' of my itinerant ministry was visiting Saskatchewan with my wife. Both my wife and I will never forget our time of blessing there. We met a wonderful group of believers under the leadership of Pastor Murray McLellan. We also visited a Bible study that was soon to become a church plant in Saskatoon. If anyone in that area believes and loves the Doctrines of Grace and New Covenant Theology, I urge you to visit and fellowship with these believers. If your church is looking for a place to support as a home mission project, I know of none better than this ministry."
– John G. Reisinger, Editor of Sound of Grace, Founder of the John Bunyan Conference, evangelist, and Bible conference speaker. He has pastored churches in the U.S.A. and Canada. He has spent ten years in church planting and established four Sovereign Grace churches.
"If you are looking for a church that seeks to express in word and deed what it is for believers in Jesus Christ to walk in the beauty of holiness by the power of God's indwelling Spirit then I encourage you to consider the labors of Grace Fellowship as they seek to proclaim the Good News of Jesus Christ to the World. I am especially thankful our Lord has appointed my good friend and fellow laborer, pastor Murray McLellan, to the task of leading this new work in Saskatoon, Saskatchewan, Canada."
– Pastor Maurice "Moe" Bergeron, Sovereign Grace Fellowship, Boscawen, New Hampshire. www.sovgracenh.com
"I have known Murray for a number of years and I am absolutely convinced that he is a faithful shepherd of the people of God. He is well grounded biblically and has a heart for the lost. He is not frightened by difficulties, but is committed to resolving them in a manner that honors his Lord. I recommend Murray as a faithful man of God."
– Geoff Volker, Director of In-Depth Studies and an Elder at New Covenant Bible Fellowship in Mesa, Arizona, www.ids.org
"Having observed the gospel ministry of Murray McLellan and been the beneficiary of His God-centered, Christ-exalting, heart-reaching sermons I highly recommend him to all of the students that come to us. Here is a ministry that seeks to be faithful in magnifying Jesus, in proclaiming the glory of His cross, exulting in the power of His resurrection, and living in the enabling of His Holy Spirit. I commend this ministry whole-heartedly."
– Mike Cleveland, Founder and President of Setting Captives Free and speaker on Setting Captives Free Radio
"It is not difficult for me to make a recommendation to consider entering into a supportive relationship with Murray and the work that he and others are seeking to establish by the all enabling grace of our Lord and Savior Jesus Christ in Saskatoon. It has been my privilege not only to know him but to spend hours studying with this dear brother. He is one of the most Christ focused men that I know, a conscientious shepherd of God's flock and a gifted writer. His understanding of our precious Christ as our New Covenant has impacted my life and this understanding in eminent through his life."
– Joseph Krygier, Pastor of New Covenant Bible Fellowship in Evans New York and has ministered in the USA, Poland, Ukraine and Romania. He was on staff at Buffalo City Mission for 20 years.
"In our post-modern era, where truth, meaning, and certainty is sacrificed on the altar of subjectivity; it can be difficult to find a local church that is committed to the supremacy of God in all things. Grace Fellowship is a church committed to bringing God the maximum glory by making and molding disciples that know what it means to deny themselves, take up their crosses, and follow after Jesus. If you desire a rich spiritual-feasting upon the word of God, a focus on heartfelt fellowship, mutual ministry and accountability, then I encourage you to come and see what the Lord Jesus is doing in the midst of this new work in Saskatoon, Saskatchewan, Canada."
– Dustin Segers, a pastor with Shepherd's Fellowship Baptist Church in Greensboro, NC.